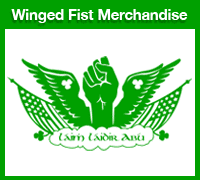 All content on this site, unless otherwise specified, is © Copyright Ian McGowan / Winged Fist Organization.
Web Design Conrad Landais


Patrick Joseph Conway:
President of the Irish-American Athletic Club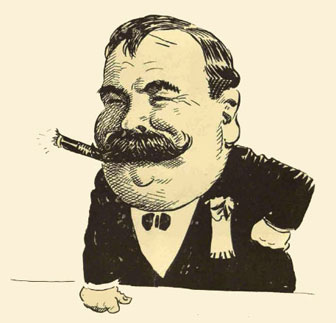 "F-I-G-H-T! Irish!"
Natural enough to see those two words together, isn't it? Yes? Knew you were going to say that. But do you know what it means in this particular instance? No? Well, stick this one in your sweatband:
It's the battle cry of the Irish-American Athletic Club. It's the Celtic Park college yell. Twenty-one wearers of the Winged-Fist, the emblem of the famous athletic organization, took it over to London with them, and judging by the way they are piling up points other nationalities now participating in the Olympic games will have good reason to remember it.
But this isn't a story about the Irish-American Athletic Club. This is a story about Patrick J. Conway. At this stage of the proceedings some one in the audience rises to inquire how it would be possible to untangle both tales. All of which is true. The history of the I-AAC from its organization ten years ago is the life story of "P.J." for a like period. No man ever worked harder for the success of a project and no man has reason to feel prouder over the good news that is crowding the cables these days.
"Conway more than any other man is responsible for the remarkable revival of athletics that has taken place in this city in the last few years!"
This is the tribute a competent authority recently paid to the popular P.J. Carried out to their logical conclusion, these initials stand for Patrick Joseph, but Patrick Joseph won't stand for any such ostentation. It's P.J. for straight and place, with Conway a bad third. None of his friends ever thinks of unveiling his full name when they meet him.
In addition to being athletes for generations back, all the Conways were blacksmiths by trade, and it was only natural that P.J. should get behind a leather apron and in front of the forge. After shoeing all the horses in Ireland he came to New York and worked as a journeyman until he accumulated enough of the emerald green to embark in business for himself. His equine shoe parlor on East Sixtieth street is one of the finest in the city.
He draws his trade form the most exclusive stables, and horses that are particular about their footwear wouldn't think of going to any other place. His name is a by-word wherever high-class horses hang out, and to fill a set of his shoes is the ambition of every speeder. Six husky, red-shirted clerks and two chiropodists look after the practical part of the business, while P.J. meets his patrons at the gate and extends a welcoming hand.
Just a few doors from the shoe shop is the family residence which shelters P.J. and Mrs. P.J. and the six little and big Conways. One of the boys, John F., is now a student at Yale. Their home life is ideal, and the family is one of the most popular in the Irish-American social life of the city.
Nature has done nobly for P.J. in the physical line. In every respect he embodies those immortal lines which tell how "the smith a mighty man is he with large and sinewy hands, and the muscles of his brawny arms are strong as iron bands." After he gets through shaking your hand you spend the rest of the day trying to pry your fingers apart and giving thanks that his powerful fist was not shoved at you from another angle.
About 200 pounds of good nature are tucked away in his 5 foot 11 inch frame. He can laugh easier and louder than "Bill" Taft and resembles the Republican Presidential nominee in many physical respects. He has the same full face, shaggy eyebrows and mustache like a hanging garden.
When I called at his shop last week I found him arguing with a customer who was trying to exchange a set of shoes that pinched him. P.J. insisted that he could not take back the shoes because they were soiled, and the horse left in a huff.
"I'll probably lose his trade, but it can't be helped," he said, turning to me and holding forth a hand which I discreetly side-stepped. "Horses are just like women. They try to crowd a ten-inch hoof into an eight-inch shoe. What size do you wear?"
"I didn't come to get shod," I replied. "I want you to tell me all about yourself."
"Not while the Grand Jury is in session," he said with a laugh.
"Give me the recipe for making a champion athletic club."
"I never made one," was the modest answer. "I'm fortunate enough to be President of the Irish-American Athletic Club, but I had no more to do with the success of that organization than a score of other men. Yes, I've been President all but one-term, but no one man could bring a club to the prominent position the I.-A.A.C. now holds in the athletic world.

"I've only done my share towards building up the organization. In the beginning I may have been more enthusiastic than the others, but that was because athletics has always been a part of my creed. The sincere efforts and untiring energy of such men as Judge Dowling, Thomas J. Cummings, Edward S. Murphy, John V. Coggey, William P. McLoughlin, Michael D. Sullivan, Peter Curran, Dennis Gilroy, Patrick J. Maguire, Patrick Leahy, Colonel D. C. McCarthy, Philip J. Coffey, Charles J. Kenny, Daniel F. Cohalan an others are responsible for the clubs success. And what movement could be a failure with the services of such men enlisted in its behalf?"
"How was the club started?"
"On suspicion," answered P.J. with a chuckle that bumped the bumps over his half-dozen chins. "You'll laugh when I tell you about its birth. I was always a crank on the subject, and one Sunday afternoon while half a dozen of us were discussing athletics in a back kitchen on East Sixty-sixth street, some one suggested that we organize a club. That was the start of the I.-A.A.C.
"Many of our early meetings were held in that room, which was so small that a man was not permitted to bring more than one idea with him. We got a charter in 1897 but didn't open up for business until 1898, so you see we are just ten years old. We sent the few men we had on the track and field, and worried along with seconds and thirds for a short time. It was a hard struggle in those days and the club was always in debt. But there was a game lot of men behind it. They gave their time and money to keep it afloat. After a while we moved to the rooms formerly occupied by the Wyandotte Club, on East Fifty-Eighth street.
"Other clubs began to realize we were there for the finish about this time. Good old John Flanagan, our first big star, joined our organization and a little later Martin Sheridan dropped in. One by one we annexed athletic stars, and at the present time we have seventy or eighty track and field performers. The club has 1,230 members, men prominent in all branches of city being included on its roster. Our present quarters on East Sixtieth street are entirely too small, and as soon as the building committee secures a suitable site we intend to erect the model athletic clubhouse of the country."


"To what do you attribute the success of your athletes?"
"That's easily answered. Every man that carries the Winged Fist is made to feel at home the minute he joins our organization. He is on the same level with the judge or banker and is not patted on the back after he wins and then forgotten until his next victory. Knowing this our men get out and run their heads off to win a victory for the club."
"What do you think about America's chances in the Olympic games?"
"We're invincible in nearly every department. I haven't touched the ground since the games started. I get the returns right here in my shop and if our boys don't let up I'm afraid I'll laugh myself into the light-weight class. America can well be proud of her athletic army. Did you see what Flanagan, Sheppard and Sheridan did? And Horr too. There's the man they left behind, but I wouldn't have it. I hustled around and got enough to send him and four more of the alleged discards. It broke my heart because I couldn't go myself. I had my ticket and stateroom, but was compelled to stay at home owing to press of business."
"Has America reached her limit in athletic supremacy?"
"Not by a jugful. Our boys will keep right on paring off the present figures in every event. Records that surprise us now will be laughed at in a few years. Your paper deserves great credit for organizing the Public School Athletic League. Strong athletic men mean a whole lot to any country. I would make daily exercise for children compulsory. If I had a hundred boys I'd make athletes out of all of them."
"Did you ever perform yourself?"
"I could do the 100-yard dash in 11 seconds when I was a boy."
"Could you do it now?" I asked, surveying his greatness of girth.
"Not unless I did it by jumping off a roof," was the quick response.
"How old are you and where were you born?"
"I'm forty-nine years old and I was born in Limerick, Ireland on the 17th of March. St. Patrick and myself have that date all to ourselves. I came to America when I was twenty years old, but my father and mother are still in the old country. While you are raking up my unsavory past it might be well to say something about the first athletic meet I ever pulled off.
"One Sunday morning myself and half a dozen gossoons cut down a tree and planted it in a field a short distance away from the church. Then we stood at either side of the entrance with our caps in our hand and when the people came out from Mass we took up a collection to buy prizes. That afternoon the field was packed and everybody had a fine time. Athletic contests were the regular Sunday pastime after that."
"Have you made any preparations to welcome the athletes on their return from London?" he was asked.
"Just wait and see," said P.J. with a significant smile. "Do you remember the banquet we gave them at the Hotel Astor the last time they went abroad? Well, we intend to make that affair look like a quick lunch this time."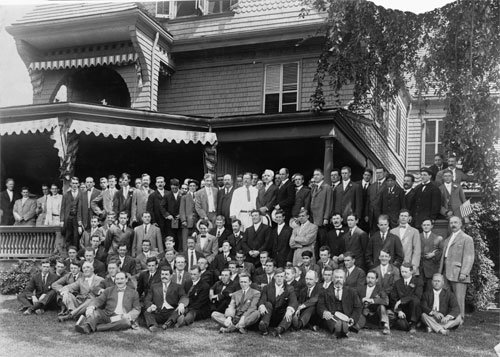 President Teddy Roosevelt greeting 1908 Olympic Team members at his home,
Sagamore Hill
, in Oyster Bay, Long Island. Roosevelt (center, wearing the white suit) is flanked by P.J. Conway on his left and James E. Sullivan, Secretary of the 1908 American Olympic Committee on his right. Photo courtesy of the Library of Congress.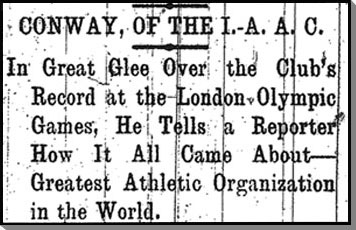 By Joe Fitzgerald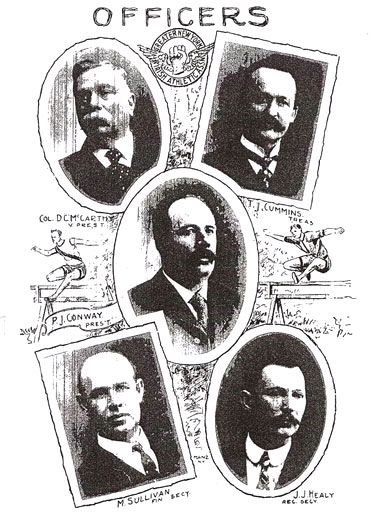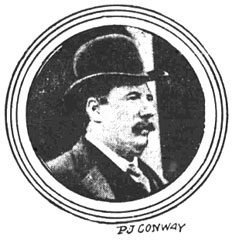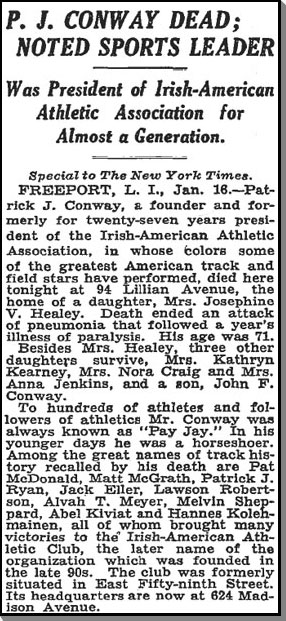 P.J. Conway (March 17, 1859 or 1861? – January 16, 1932) or "Pay Jay" as he was known to his friends, was a founding member and president of the Irish-American Athletic Club for 27 of its 33 years of existence. Under P.J.'s leadership, the I-AAC became one of the most successful athletic clubs of the early 20th Century. During the 1908 Olympic Games, the peak of the I-AAC's dominance of the athletic world,
a reporter for the New York World interviewed P.J. in his blacksmith's shop on East Sixtieth street in New York.
This interview was reprinted in The Gaelic American, July 25, 1908.
Excerpt from P.J. Conway's obituary in The New York Times: January 17, 1932.