Abel Kiviat: "Hebrew Runner" of the I-AAC
Abel Kiviat (1892-1991) or "Kivvie" as he was known to his friends, was one of track and field's legendary personalities. The oldest of seven children of Jewish immigrants from Poland, Kiviat was recruited by coach Lawson Robertson of New York's famed Irish-American Athletic Club when he was a senior at Curtis High School on Staten Island. The teenage prodigy known as "the Hebrew runner" of the I-AAC, defeated Hall of Fame runners while still in his teens. He was eventually elected captain of the I-AAC.
In 1909 Kiviat won the AAU's junior championship for one mile in the fast time of 4:24. He also won the Baxter Cup in the Columbia University races at Madison Square Garden with a time of 4:23.4. Kiviat was part of the world's record breaking teams in the 2,400 yard and 4 mile races. In 1909, 1910, 1911 and 1912 he won the Canadian mile championship. Kiviat held records in the 600 yards, 1,000 yards and the mile, all at the same time.
In June of 1912, Kiviat set a world's record for the 1,500 meter distance with a time of 3:55.8, guarenteeing him a spot on the US Olympic Team at the games in Stockholm in 1912, where he won a silver medal in the 1500 meter race and a gold medal as a member of the 3,000 meter team race. He also competed for the US exhibition baseball team at the 1912 Olympic games.
Kiviat died at age ninety-nine, just months short of carrying the torch at the opening ceremonies of the Olympic Games at Barcelona in 1992.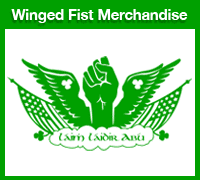 Abel Kiviat wearing the Winged Fist of the I-AAC. Photo courtesy of the New York Public Library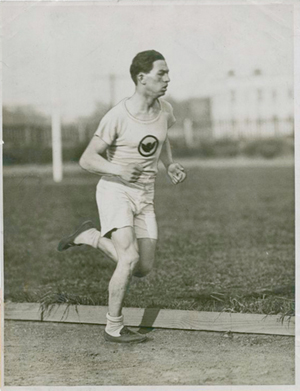 To purchase
Abel Kiviat, National Champion: Twentieth-Century Track & Field and the Melting Pot
, by Alan S. Katchen,
click here
.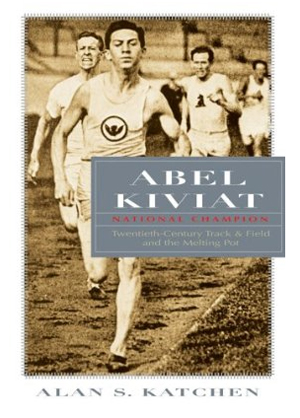 All content on this site, unless otherwise specified, is © Copyright Ian McGowan / Winged Fist Organization.
Web Design Conrad Landais
"SIX RECORDS FALL AT IRISH GAMES," NYT, October 11, 1909
"KIVIAT RUNS FAST MILE IN THE RAIN;" NYT, August 29, 1910.
"KIVIAT WINS RELAY FOR THE THIRTEENTH." NYT, Jan. 22, 1911.
"WORLD'S RECORDS AT A.A.U. GAMES;" NYT, March 7, 1913.
"NATIONAL FOOT RACE TITLE FOR KIVIAT;" NYT, Dec. 7, 1913
"Sports of The Times; America's Oldest Olympian." NYT, June 24, 1991.
"Abel Kiviat, Runner, Dies at 99;" NYT, August 26, 1991.

Abel Kiviat 1910 Mecca Cigarettes Champion Athlete and Prize Fighter Series trading card.